Kendra will be hosting the following workshops in her studio in downtown Kelowna, BC:
---
BEGINNER WATERCOLOUR – SNOW AND WINTER SHADOWS
October 20th and 21st, 2007 : 10am – 4pm with an hour break for lunch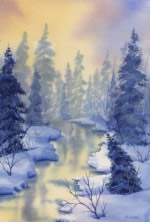 This weekend workshop is for those who have little or some experience in watercolour. With demonstrations and easy exercises we will use the basic elements of composition, colour and light to help bring your watercolours to life. The focus of this class will be on painting snow and winter shadows.
Cost: $90
Includes: coffee and all supplies on loan for the weekend
Location: 375 Bernard Avenue in Studio #5, Kelowna, BC
The studio is upstairs from Starbucks on the corner of Pandosy and Bernard. Enter in the door beside the Momo Sushi Cafe and go upstairs and to the end of the hall.
Register: You must pre-register. Please call Kendra at 250-862-4958 to sign up. Visit www.kendraart.com
---
INTRODUCTION TO WATERCOLOUR – BASIC TECHNIQUES
October 13th and 14th, 2007 : 10am – 4pm with an hour break for lunch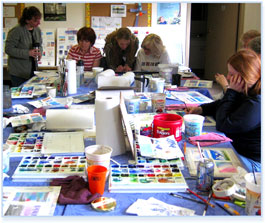 Artist Kendra Smith will host this weekend workshop that is perfect for people who have never tried watercolour painting. Emphasis will be placed on the techniques and skills you'll need to develop a foundation of watercolour basics. Through demonstrations, practice and individual attention, we'll take the intimidation out of watercolour and make painting easy and fun.
Cost: $90
Includes: coffee and all supplies on loan
Location: 375 Bernard Avenue in Studio #5,
The studio is upstairs from Starbucks on the corner of Pandosy and Bernard in Kelowna, BC. Enter in the door beside the Momo Sushi Cafe and go upstairs and to the end of the hall.
Register: You must pre-register. Please call Kendra at 250-862-4958 to sign up. Visit www.kendraart.com
---