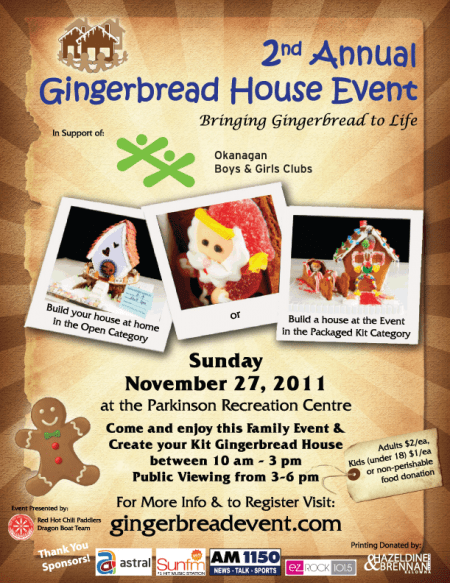 Once again I am in charge of media relations for The Gingerbread House Event and I just sent out our first official professional press release to nearly 30 media outlets in Kelowna. Just in case I missed any or if you don't catch this information on one of those mediums, here is all the info and how you can find out more about this marvellous event. (PS I must confess that I didn't write this myself, my wonderful husband did the wonderful write-up :)
2nd Annual
Gingerbread House Event
Bringing Gingerbread to Life
In Support of the Okanagan Boys and Girls Clubs
Kelowna is Bringing Gingerbread to Life in Support of the
Okanagan Boys and Girls Clubs
Kelowna, BC – The 2nd Annual Gingerbread House Event would like to invite the public to a family fun day at the Parkinson Recreation Centre on November 27th, 2011. The event is in support of the Okanagan Boys and Girls Clubs Cool Moves Program. The Cool Moves program promotes healthy eating and physical activity for kids. As a result of participating in games and activities of this program, participants will also gain cooperation and team building skills as well as confidence and feelings of belonging.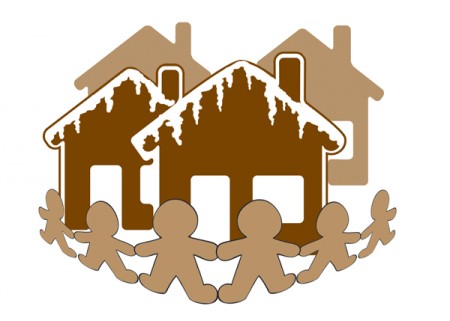 The core goals of the event are:
Create a family friendly event and atmosphere that promotes fun
Provide funds and food to the community through the Okanagan Boys and Girls Clubs
Ensure that anyone can participate regardless of their financial situation
The Event has three categories to provide different challenges for different people: Open, Packaged Kit and Chef Category. The Open Category allows entrants to build their house at home and bring it to the event. The Packaged Kit is where each entrant receives and builds a packaged gingerbread house kit right at the event. It's an excellent option for the family to come for a fun event during the day.
The Chef category allows cooks and chefs to enter their creation in a bragging rights competition.
Registration in the Gingerbread House Event is available now at www.gingerbreadevent.com. Registration is $20, $25, or $30 depending on category and age. Rules and registration forms are available at our website.
Dozens of entries and hundreds of public viewers are expected at the event. The Gingerbread House Event awards over $1000 in cash and prizes. A public choice award will be presented this year to the most popular entry as chosen by the viewers.
Want to see the houses without building your own gingerbread house? No problem, the gingerbread houses are available for public viewing from 3-6pm. Viewing is $2/adult, $1/child or free with a non-perishable food donation to the Okanagan Boys and Girls Clubs Christmas Hampers.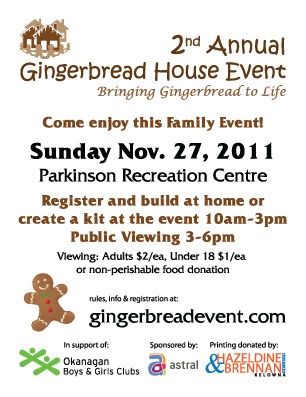 Note to potential sponsors: There are still sponsorship opportunities available. You can get involved by: Becoming a Major Sponsor ($350+), sponsoring a Packaged Kit for those unable to afford the entry fee ($25), renting an 8' table to display or sell your products/services ($50), or donate items for the raffle.
About The Okanagan Boys and Girls Clubs: The Okanagan Boys and Girls Clubs is a leading provider of programs to children and youth that support the healthy physical, educational and social development for over 6,000 young people and families each year throughout the Okanagan valley. Each centre creates a safe, supportive environment where children and youth experience new opportunities, overcome barriers, build positive relationships and develop confidence and skills for life. Our programs focus on an individual's strengths and capabilities, and all programs embrace the principles of equality and inclusion. They help young people grow healthy, happy and safely from birth to adulthood, and are a resource and support for parents throughout their family's involvement with us.
About the Red Hot Chili Paddlers Dragon Boat Team: The Red Hot Chili Paddlers are a co-ed recreational dragon boat team with the Kelowna Dragon Boat Club. The team is comprised of fun loving, active, outgoing paddlers from their 20's to their 60's from many walks of life who share one goal: To Have Fun! In 2010 the Red Hot Chili Paddlers undertook the planning and production of the 1st annual Gingerbread House Event with a vision of creating a premier event, a Kelowna family tradition, and an annual fundraiser to support the Okanagan Boys and Girls Clubs, and the local community.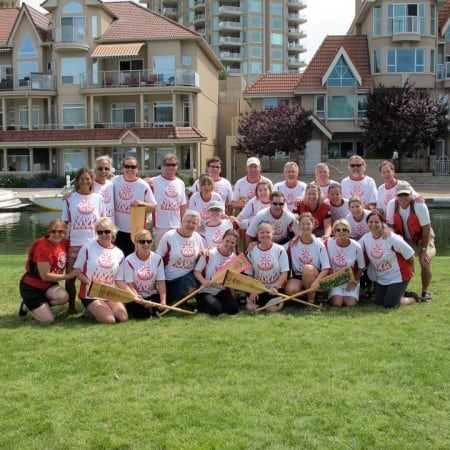 Presented by the Red Hot Chili Paddlers Dragon Boat Team
www.gingerbreadevent.com
Clinton Dixson, Chairman 250.575.3906

Link to press release on PRLOG:
http://www.prlog.org/11691789
Facebook: https://www.facebook.com/gingerbreadEvent
Twitter: @gingerKelowna