For ten years my brother, Craig Smith, was in the alternative rock band Blinded. With music as his main passion, it wasn't surprising that on special occasions he would often surprise us with an original song. The first one was at my dad's retirement and it was a hilarious western/folk song recounting my dad's life story. In 2004 he wrote an original song for my mom's leap year birthday gift and it was so good my mom sent it into CBC and they played it on the radio. More recently he wrote two songs as my wedding gift and played them at my wedding. One had us smiling emotionally and tearing up, and the other had the whole room shaking with laughter.
Most of the gifts Craig made were composed of a single song, but one year he surprised us with an entire album. In 2004, Craig and his Blinded band mates created a Christmas gift for their families made up of original songs, characters and narrative that took the listener on a magical journey to the North pole led by a very quirky elf called Norgy.
"Every year at Christmas time the story would be listened to by friends and family who would encourage them to produce it for others to enjoy as well. So during the 2010 Christmas holidays Blinded pulled up their Christmas socks, put on their festive sweaters and got back in the studio where they revamped the narrative, wrote more original Christmas songs and collaborated with many different artists and voices to create the new and improved An Elf's Tale!"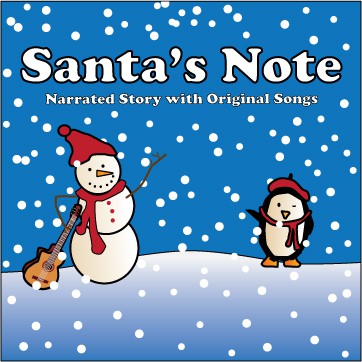 I'm proud to say that I created the artwork for the album cover. [Edit: this was the original album cover when the story was called Santa's Note. Since this post the name of the album has been changed to An Elf's Tale and it has a new cover too.] At my Christmas craft fairs last year I was selling copies of the double CD. One CD has all of the original songs with the story narration, the other CD has just the songs. My husband and I had our CDs on repeat in our vehicles for a few months!
I suggest, without bias of course, that you purchase my brother's amazing Christmas music for the upcoming holiday season! You can either purchase the full album which can be mailed to you, or you can buy a downloadable version. All of the options are available at www.anelfstale.com. Clips of the songs can be heard on the website. Your entire family will enjoy this album. It's the best Christmas gift we ever got. :)
Filed under:
Art for your Lifestyle
.