On Friday I'm heading to the Sun Peaks Winter Wine Festival to present at the Progressive Wine Tasting event. Then on Saturday I'm having my ninth annual art show! This year it is in the lower lobby of the Delta Hotel.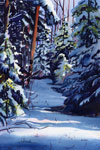 Sun Peaks Art Show
Saturday, January 23, 10am-2pm
Lower Lobby of the Delta Hotel

I'll be displaying originals, reproductions, art cards, magnets and bookmarks. Find me in the lower lobby of the Delta Hotel along with artists Ken Farrar and Sol Metal Designs. This art show is presented by the art gallery Tree Line Studios.
Sun Peaks Ski Resort is located north of Kamloops, BC. You can read more about my art show on my website at http://www.kendraart.com/exhibit.html.
Hope to see you there!
Kendra Smith
www.kendraart.com
Art for your lifestyle
Filed under:
Exhibitions
.