In my previous post I mentioned that the Artists for Japan fundraising initiative switched from a facebook group to a fan page. Now you may be asking yourself what the difference is between a group and a page and why we would risk losing our following by moving. At the time of the move the group had well over 700 members! Well, we weighed our options and the pros of using a facebook page happened to outweigh the disadvantages.
Let's compare facebook groups to facebook pages from our experience:
Facebook Group

Pros:
In a group all members can directly add their friends to the group using a link in the right side bar. The group grew in leaps and bounds as each new member added their friends who they thought would like to donate art or bid on the art. It's possible that our cause may not have gone viral as quickly if we had not used a group to start it out. In just 10 days we grew to over 700 members!
On a group wall the post with the most current comment appears at the top. When you go to a group wall, you are always in the thick of the action. It's easy to see where the conversations are happening. It was fun to see some of the bidding wars and this group feature allowed us to watch the action as it happened. Without this feature we may not have been aware of much of the activity happening on the wall.
When you belong to a group you can add the group to your left side bar on your home page which makes it very easy to access. No searching around to find the group.
Cons:
When you join a group you are automatically 'signed up' for email notifications for all posts and comments. This can be very overwhelming, especially when the group is growing in leaps and bounds and you aren't sure how to turn off the emails. PS if this ever happens to you, it's easy to remedy, just go to the group page, click the 'edit settings' button on the top right, and you can choose which if any emails are sent to you.
In a group all members can directly add their friends to the group using a link in the right side bar.This means that people can be added to the group without even knowing anything about it. If they aren't sure why they are added, there's a possibility that it could feel like spam.
Since the posts are constantly changing order (the post with the most current comment appears at the top) it is hard to keep track of posts and find the auction items when needed
It's hard to find the group if you aren't already a member
There are no links for the Photos so you have to click on a photo and then scroll from there
On a group the admins can only comment as themselves so it is difficult to show official posts
it's difficult to share photos because there is no share link (you have to manually copy and paste the URL from your browser)
the share button for the group is at the very bottom of a group wall so you have to scroll down, waaaaay down, to find it
These points are only gathered from my personal and recent experiences and are not intended to give a full overview of facebook groups. To read more about how groups work and find out if a group is right for you, read this informative article (including a video) from Mashable.com: New Facebook Groups.
Facebook Page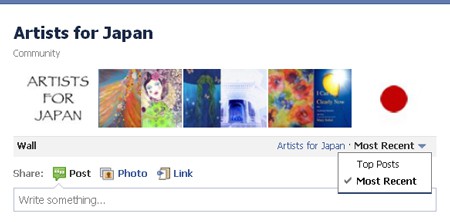 Pros:
Pages are public and easier to promote.
You can set up a short URL for your page such as ours: http://facebook.com/artistsforjapan
You can create photo albums
You can toggle from Top Posts to Recent Posts
There are quick links in the left side bar for Info, Photos, Notes, Events
Admins can comment as the page profile or as their personal profile thus distinguishing official wall posts from personal ones
With new pages you can now receive notifications for page activity!
Non-admins will NOT receive emails. Yahoo! (and for the admins of a page it is easy to turn off notifications, just go to edit page and click on Your Settings
When you login as a page admin, you can spread the love and create awareness for your page by

'liking' other pages as your page profile
comment on other facebook pages as your page profile

There is a share link for every photo so it's easier to post the art for auction on your personal profile
You can make a profile banner for a Page (you just can't control the order of the pics like you can on your personal profile)
Cons:
It will take longer to get established since the page will grow organically as people must opt in manually by clicking the 'like' button
Facebook took away the 'suggest to friends' link on pages, so it's not as easy as it used to be to promote a facebook page
I'd love to hear your thoughts. These observations are from my experience only, so please let me know what your experience has been and if you have anything to add. Thanks!