<– Part 1 | Part 2 | Part 3 –>
Okay, so in my last post on Halloween Cake Pops I was so excited at how my cake pops were turning out. I proudly displayed all the wonderful photos of preparing the cake and icing and mixing it to form the cake balls (see Part 1 Halloween Cake Pops here). I couldn't wait to keep working on them but little did I know what was in store for me.
In the cake pop tutorial I used each cake pop looks perfect and so easy to make: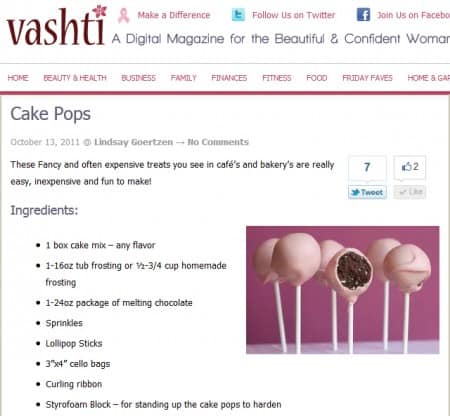 I love this recipe. (click the picture above to see the full article)
So how could I go wrong, right? Well, as it turned out, there are plenty of ways to go wrong when making cake pops and I am here to help you avoid the mistakes I made in my cake pop baking adventure.
Cake Pop Mistake #1: Drip Stick Disaster
If you don't carefully drip off the chocolate before you roll the cake ball in sprinkles, the whole mess will start dripping down the lolipop stick. Ack!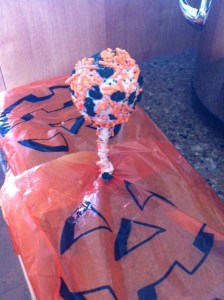 Cake Pop Mistake #2: Cake Sticks to Fork Mess-Up

If you have ever made chocolates you may have used this trick of letting the chocolate drip through a fork. I thought I was a genius for coming up with this nifty way to avoid the dripping disaster (see cake pop mistake #1 above). My plan was to let all the excess chocolate drip off, then I would transfer the cake ball to a bowl of sprinkles, and then insert the lollipop stick.
Unfortunately, cake is sticky and soft and it likes to attach itself to the fork and so in trying to detach the cake ball some of the cake would stay on the fork and cause a big mess. Ack!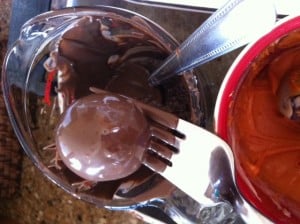 Cake Pop Mistake #3: Fat Sticks Cause Cake Ball Explosions

I found out the hard way that letting some chocolate harden on the end of the lollipop sticks is not a good way to make cake pops. Apparently you are supposed to dip a stick in the melted chocolate and immediately put it into the centre of a cake pop so that the chocolate will harden and help keep the cake pop together. Who knew that letting the chocolate harden on the sticks would make them fat and cause the cake pops to slowly explode from the added volume. And here I was trying to be efficient: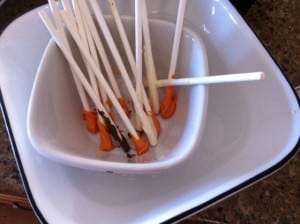 Exhibit A: Cake Pop Flop

This is what happened to one of my cake pops. The hardened chocolate on the lollipop stick created a massive hole in my cake pop and as it was setting the whole cake pop dropped down the stick onto my styrofoam base. Ack!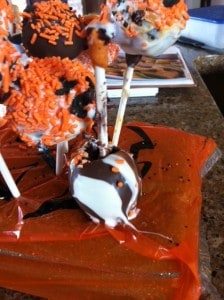 Exhibit B: Cake Pop Explosion

This cake pop didn't even make it to the styrofoam base. When I inserted the lollipop stick it exploded and even though I tried to repair it with extra melted chocolate and attempted to cover my tracks with extra sprinkles, it looks like my cake pop's guts are spilling out. Appropriate for Halloween I suppose, but not exactly the party favour I was going for. Ack!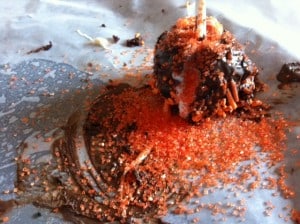 Cake Pop Mistake #4: Clumpy Chocolate Mass

In my extra cleverness I added orange food colouring to melted white chocolate to match my Halloween theme. It took quite a lot of food colouring to get the colour I wanted. Big mistake! If you've ever made chocolates before you might know that you're not supposed to add water to melted chocolate… well apparently mass amounts of food colouring will have the same effect: the chocolate will harden, clump, and take on the texture of old crumbly fudge.
Absolutely no amount of heating, stirring or added butter will make this chocolate dip-able. Ack!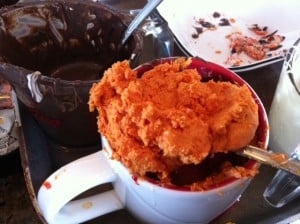 Give up?
Cake Pop Alternative #1: Almond Bark with Sprinkles

If you decide to give up your cake pops, a fun way to use up the melted chocolate is to pour it over some toasted almonds to make almond bark. Add extra flare by using up some of your unused cake pop sprinkles:

Cake Pop Alternative #2: Dipped Confections


An easy way to get over your cake pop failure is to make these yummy treats which look great and are sure to please your party guests without any flops, explosions or clumps. I stuck toothpicks in pieces of Australian Gold Ginger and dried papaya. I dipped the candied ginger in the left over dark chocolate, and I dipped the papaya in the melted white chocolate. I left some of the papaya showing as it is orange and very Halloween-y. I also used up some of the sprinkles to entice visually and it also gives a yummy crunch to the candy treats. Yum!
Success!

However pleased I was with myself over these cake pop alternatives, I was still determined to make yummy and cute cake pops. Come back tomorrow to see how I conquered these obstacles, learned from my mistakes and made my cake pop adventure a success!