I was inspired by Dora Themelis to write this post. (You can find her on twitter at http://twitter.com/DorasPaintDrips.) I commented on her post about painting with watercolours where she compares two wonderful portraits she has done. Thinking about the importance of the materials behind every artist prompted me to write more of my own experience in a blog post as well.
Watercolours aren't easy at first and especially for complicated subjects. The more detail you are adding to a painting the higher the possibility of roughing up the paper surface causing streaks, lines and smudges to appear in your painting. This is very discouraging for the beginning artist and can deter some people from painting with watercolours. Watercolours are known for their pure luminous quality so it is extremely frustrating when all you end up with are dull overworked paintings.
It can take a lot of practice painting layered transparent washes but with the right paints and techniques it is possible to end up with a glowing rich painting. I also believe that the paper you are using can make a world of difference.
For example, a heavier paper would make the whole process so much easier. I use 300 pound cold press paper and it really helps. It's hard to explain how much difference a paper can make but it can truly be a huge factor in the success of the painting. The cold press paper has a rough texture which gives the painting a "tooth" for the paint to grab onto which is great for dry-brushing texture such as ice, bark, pebbles, a roof, etc.
The weight of the paper makes it less susceptible to curling and puddling. It also makes the paper more forgiving which means you won't be as likely to rub off the surface fibres of the paper as you apply multiple brushstrokes in one area.
It's also important to note that the brand of paper you are using can also a big difference which in my opinion can be night and day. I love Arches paper. The colours seem to blend a lot smoother. It has just the right amount of sizing which is applied to these cotton papers so that they won't absorb the water too quickly. I guess it kind of protects the paper from getting waterlogged in a way. I have used other papers which have been nearly impossible to paint a smooth clean wash on without getting streaks or run-backs, cauliflower like stains in the painting.
Here is an example of two washes I made using 140 pound paper of two different brands. I used the same technique in both examples.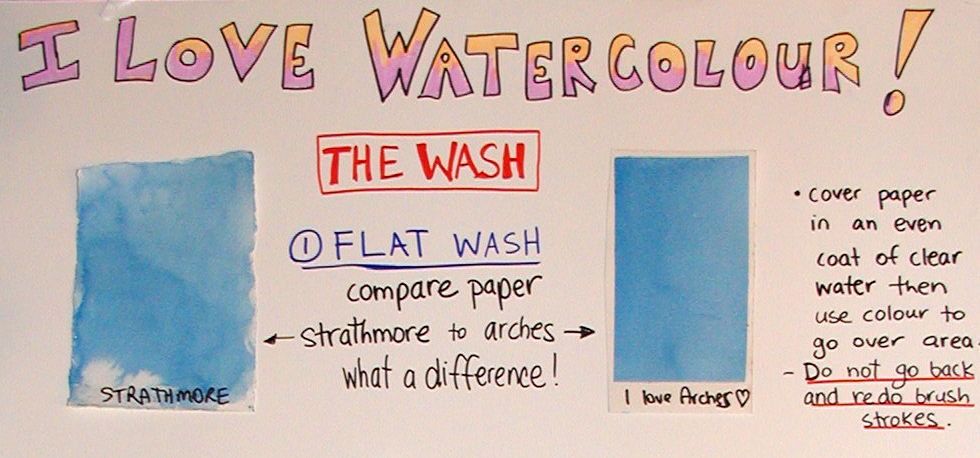 As far as painting styles you will develop your own as your familiarity with the medium increases. Watercolour can be frustrating for sure, but I absolutely love the medium. When I lay down the perfect wash it makes my heart sing.
Filed under:
Tips
.