Last weekend I was at the 2010 Grad and Wedding Expo at Rotary Centre for the Arts in Kelowna, BC. There were hundreds of booths and a big fashion show, but the most memorable and fun part of the show were the interactive booths by Voth Photography and Okanagan Digital Media Productions. (Oh and I also loved the booth by Cupcasions where we got to try two kinds of cupcakes. Yum!)
---

Okanagan Digital Media Productions
and
Okanagan Photo Booths
are owned by videographer/editor/producer John Thiessen. To attract a crowd to his display, he brought a portable photo booth with him to the show. It worked! Moms, daughters, brides, grooms, best friends, all were lining up to take photos in his photo booth. I didn't even realize how much fun it would be until I was given our photos. They are so cool. This was definitely a highlight of the show.
The brilliant part about his marketing plan is that every single person who visited his booth and got their pictures taken went home with photo-strips with his website and phone number on them! I'm sure I'm not the only one who looked up his website and posted my photo-strip on facebook.
I'm especially pleased to announce that an Okanagan Photo Booth is going to be at the public viewing of our Gingerbread House Building Competition at Parkinson Rec Centre in Kelowna, BC from 5-7pm on Sunday, November 21st! John is donating the booth and his time to our event. This will be so much fun for the whole family! Be sure to come on out to see the Gingerbread Houses and to get your pictures taken in the photo booth. For a small (optional) donation of your choice you can get your pictures taken and you get to take home the photo-strip! Partial proceeds will be donated to the Okanagan Boys and Girls Clubs.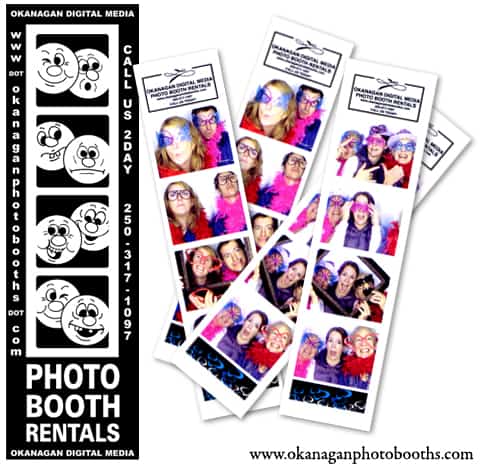 ---
The other booth at the trade show which ties for the most fun, in my opinion, was
Voth Photography
. Sean and Melissa are a husband and wife photography team based out of Penticton. They do professional photo shoots from the Okanagan Valley to Vancouver. In their booth they had a basket of props and a big art deco backdrop to take people's pictures for a facebook contest. They also had black on white signs which you could hold up for effect which said things such as "Where's the cake?", "Wedding Crasher" or "Off the Market".
The brilliant part about their marketing plan is that their facebook contest not only gains them lots of exposure from contestants sharing and tagging the photos, but it also generates likes on their facebook fan page from the contestants and their friends. Expanding your network is a key strategy in any marketing plan but especially important with social media.
Contestants are likely to promote this contest not only on facebook, but on their blogs too as I'm doing here…
The prize for the facebook contest is not one but TWO photo sessions. I would LOVE to win this. It would be so much fun! If you are on facebook and you would like to help me win all you have to do is go to the Voth Photography Facebook Fan Page, "like" their page and then tag yourself in our photo. Please let me know if you do these steps so that I can keep track of our 'votes'. Thank you! :)
Click this picture to see my photo on the fan page:


---
Have you ever had a booth at a trade show or art fair? What have you done to gain exposure at your booth?
If you'd like to read a story about what I did to draw attention to my booth at the Sun Peaks Arts and Culture Festival last winter, you might be interested in these blog posts:
"Attracting People with Watercolour Magic"
"Unveiling the Magic of Watercolour"
Tags: contest, marketing, photobooth, photography, promotion, trade show
Filed under:
Exhibitions
.