I was recently commissioned to paint a picture of Mount Hosmer and naturally the Fernie Ghostrider. Here is my original painting the lady saw which she liked: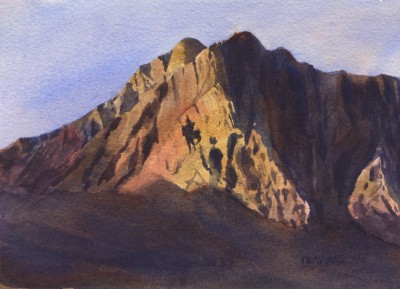 Often times when I get a commission I tend to freeze up. It's a lot of pressure to paint a commission and it can give you "painter's block" if you don't mitigate those feelings. Why is it so much more difficult to paint a picture for someone else than for yourself? For one thing it is hard enough to "get it right" when you're painting from your own vision, but it's very difficult to paint what's in someone else's head.
How do you know if this is what they had in mind?
What if they don't like it?
Can I use my painter's intuition or do they want it to be "just so"?
What is "just so"?
Questions like these and more can float around your head and block the creative flow.
Well, last weekend I heard a suggestion that may change the way you think about commissions forever. I was taking Alex Fong's watercolour workshop, The Magic of Watercolour, and he was talking about commissions. He said that his trick to take the pressure off is to paint three different versions of the commission and then give the client a choice.
"Paint three?" you may be asking, "isn't a commission hard enough work in the first place, let alone tackling it three times?" Yes, a commission is hard work, but part of the hard work is the struggle with the mental block of painting a commission. Imagine how much easier the paint would flow if you could lift that block and paint without any of the associated pressures of painting a commission. It would be freeing.
Painting three paintings can take longer than painting one, but I have always found that in painting multiple pictures I tend to improve as I go. You will start to see shapes better. You will loosen up and carry your brush with a lighter touch using bold confident strokes. Here is a chance to learn and grow as an artist.
Your client will be impressed that you have provided them with three choices. Plus, as Alex says, it alleviates that awkward pause while you're wondering "do they like it? Gosh, what if they don't like it?" when the client first sees your finished piece. This way they have a choice, they can pick their favourite. It actually takes the pressure off the client as well who may be asking themselves "Will I like it?", "What if I don't like it?", "What will I say?".
I have tried this approach a few times before and it has worked great. My clients have been thrilled and once I even sold two pieces instead of one!
Here is my latest commission which I actually painted four times. Which one do you think she will choose?