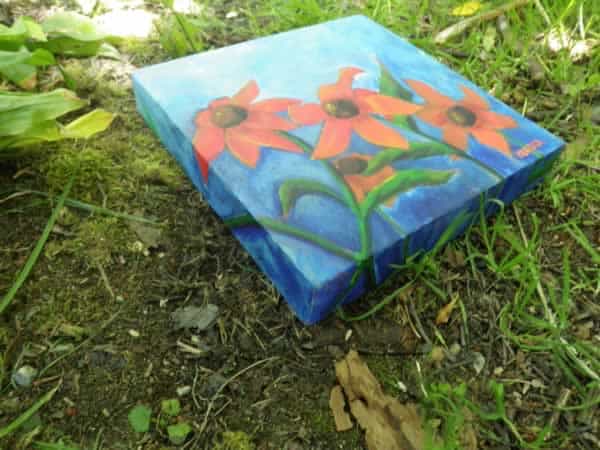 Someone will win this 8×8 acrylic painting of mine for only $50! I donated it to a fundraiser for the Whistler Arts Workshops on the Lake program. It's an amazing program where the Whistler Arts Council offers art workshops in a beautiful cabin on Alta Lake in Whistler, BC. I was lucky enough to take a workshop there this July and the whole time I was in artist heaven!
Here is more information from the Whistler Arts Council:
The Whistler Arts Council (WAC) would like to invite you to a celebration and fundraiser in support of Whistler Art Workshops on the Lake program. The event will take place at the beautiful Nita Lake Lodge on Sunday, September 12, from 4pm to 7pm.

The event will focus on a raffle of original artwork created by emerging and professional artists including some of the Art Workshops instructors. Raffle tickets for the 8" x 8" pieces of artwork are $50 each. As people's names are drawn, they choose a piece of artwork; it's a matter of first come first serve. It is a fun way to purchase amazing and affordable original art! There will be a cash bar, complimentary appetizers and the opportunity to mingle with fellow artists and art lovers.

WAC also invites you to consider contributing to the event by painting a canvas (or two!) for the raffle. Canvases will be supplied by WAC.

The Whistler Art Workshops on the Lake program is entering its 5th season and offers two to four day workshops of introductory to advanced level instruction in visual art led by world-renowned professional artists from across Canada . The workshops are held in the serene and rustic Alta Lake Station House set on the shores of Alta Lake .

Unfortunately, this popular program is threatened after the recent budget cuts to the provincial BC Arts Council and Gaming Grants. These cuts have greatly impacted arts and culture organizations throughout the province that provide economic, social, and institutional value to our community.

Volunteers, in partnership with the Whistler Arts Council, have come together to create a fun fundraising event that will not only provide a source of much-needed funding, but also offer a forum to showcase local talent.

Please attend this celebration and – if you are an artist – consider contributing a work of art in support of this terrific program that has seen so many emerging artists grow into the creators of sought-after masterpieces.

Deadline for artwork submission is Friday, September 3rd.

Contact the Whistler Arts Council or the volunteers below to purchase your ticket to the celebration or to pick up your canvas for creation.

Thank you and we hope to see you on September 12th!
This excerpt was written by Jenn McElroy, the Event Coordinator at the Whistler Arts Council. For more information about the event you can contact Lisa Geddes or Bea Gonzalez:
Lisa Geddes – (604) 932 6054 or email: lisaandbill at gmail dot com
Bea Gonzalez – (604) 932-8390 or email: beagon at telus dot net
If you find yourself in Whistler, BC, you can visit the Whistler Arts Council at at Millennium Place, 4335 Blackcomb Way, across from the Brewhouse.
Filed under:
Art for your Lifestyle
,
Exhibitions
.